Weekly garbage collection service is offered to the residents of Pulaski County by the Pulaski County Public Service Authority.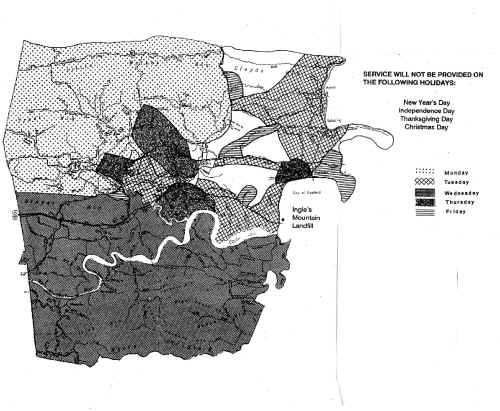 SERVICE AREA
Garbage pickup service is available to all households in the unincorporated portion of the county and to the residents of the Town of Pulaski. The Town of Dublin provides garbage pickup service within the Town of Dublin.
SERVICE WILL NOT BE PROVIDED ON THE FOLLOWING HOLIDAYS:
New Year's Day Independence Day Thanksgiving Day Christmas Day
UNINCORPORATED AREAS OF THE COUNTY
MONDAY: Back Creek, Mt. Olivet, Alum Spring Rd., Case Knife Rd., Robinson Tract, Schrader Hill, Black Hollow, Valley Rd., Brookmont, Veteran's Hill, Little Creek, Morehead Lane, and Clayburn Rd. north of Dublin.
TUESDAY: Wilderness Rd. from Newbern Rd. to State Park Rd., Claytor Lake State Park, Old Rt. 11 from Dublin to Morgan's Cut, Parrott River Rd., Belspring, Parrott, Highland Rd., McAdam, Newbern Heights, Sunny Acres, Rolling Hills, Orchard Hills, and Newbern Rd. from Count Pulaski Rd. to Possum Hollow Rd.
WEDNESDAY: Boom Furnace, Hiwassee, Snowville, Draper, Delton, Claytor Lake, Allisonia, Big Reed Island Creek, Shiloh, Claytor Dam, Mountain View from State Park Rd. to Claytor Dam, Hazel Hollow Rd., Staff Village, Hickman Cemetary Rd. from Lee Hwy. to Highland Rd., Morgan Farm Rd., McFall Hollow, and Count Pulaski Drive to Possum Hollow Rd.
THURSDAY: Newbern, Peak Creek, Mountain View Acres, Thornspring Rd. to Alum Spring Rd., Highland Park, Mount Pleasant, Morgan's Cut, New River, Hylton Heights, and Dobbins Ave.
FRIDAY: Lillydell, Fairlawn, Landrum Rd., Pepper's Ferry Rd., Oakview and Walnut Subdivisions, and Ruebush Rd. to Highland Rd.
TOWN OF PULASKI
MONDAY: All areas south of the railroad and Pleasant Hill Drive.
TUESDAY: Area east of Memorial Dr. and south of Pepper's Ferry Rd., Newbern Rd. east to Memorial Dr., and Pepper's Ferry Rd. from Memorial Dr. east to Lee Hwy.
WEDNESDAY: Lee Highway from Hospital to Cardinal Dr., Low Moor, Skyview Circle, Pulaski Middle School, numbered streets NE and Pepper's Ferry Rd.
THURSDAY: Numbered streets NW, Northwood, MacGill Village, Oakhurst, Pepper's Ferry Rd. east to Memorial Dr.
FRIDAY: Dora Highway from Prince Ave. to Count Pulaski Dr.
If garbage is not picked up due to system overload (inclement weather, excess Christmas holiday garbage, equipment failure), service will be delayed to the same day of the following week.